Facebook
If you are looking for an effective solution on how to read someone's Facebook messages, you are exactly where you have to be! The fact is that PanSpy offers the powerful Facebook spy software for Android devices.
Get Started

View Demo
WITH PANSPY YOU CAN:
Read Private Messages: view all private messages sent and received from Messenger.

View Photos & Videos: keep a close eye on the photos and videos your kid sends and receives and take precautions if there is any inappropriate content.

Get access to all web history: browse through all Facebook activity. Find out whether your child understands the risks and dangers that Facebook brings and if s/he is ready for online communication.

Trace Liked Pages & Groups: understand your kid's interests better from the pages they like and follow, and interest groups they join.

Block Use of Facebook Messenger: block Messenger app on your kid's phone remotely during study time.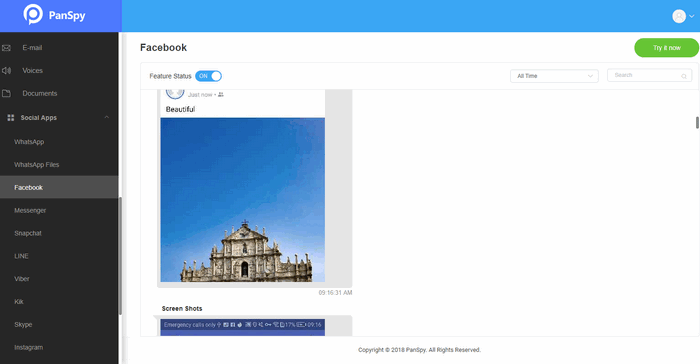 Why will you find this feature useful?
For today, there are actually numerous opportunities for people of different ages to communicate online, and Facebook occupies the enviable position within them. Monitoring your child's Facebook Messenger conversations has become a necessity.
PanSpy is a sophisticated monitoring tool that can be easily used for checking text messages and media content shared via the Facebook Messenger, thus providing maximum protection for your kids and business.