Tinder
As one of the most popular dating apps on the internet, your child may like chatting with others with Tinder. It's unwise to left it unmonitored or it will do harm to your child. Be aware of your child's dating profile and prevent them from those who prey on dating apps with PanSpy.
Get Started

View Demo
WITH PANSPY YOU CAN:
View all conversations within Tinder app.

Be aware of what's going on with your child's Tinder account.

Check your child's settings and view all matches by the app.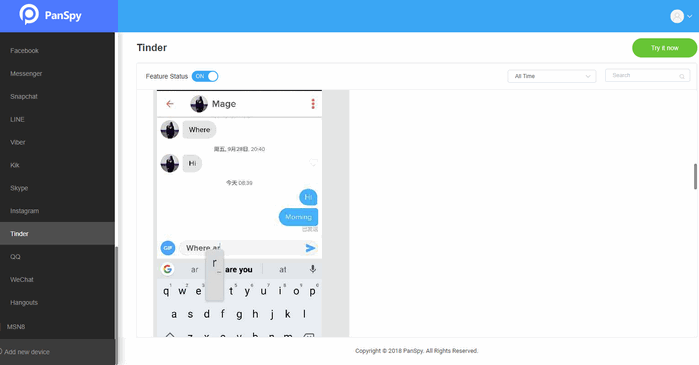 Why will you find this feature useful?
Massive online predators like creating phony profiles to seduce people. Unfortunately, since the teenagers are too young to easily believe these fake profiles and information, your children are those who are especially vulnerable to those who prey on dating apps. So you must be aware of what's happening on your child's Tinder app.
PanSpy enables you supervise everything on Tinder so that you can protect your child from online predators.