Kik Messenger
Kik is a free instant messaging mobile application that being popular with teenagers. It lets you send text messages to other users and share photos or videos online. Monitor your child's Kik actions to prevent them from online bullies and predators with PanSpy.
Get Started

View Demo
WITH PANSPY YOU CAN:
View all sent and received text messages on Kik

Browse all photos and videos shared with Kik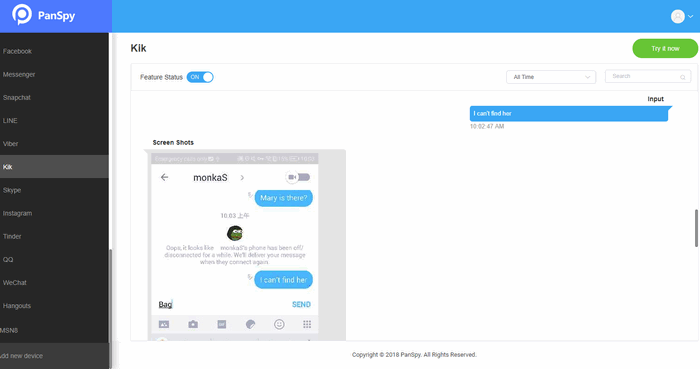 Why will you find this feature useful?
Kids always like chatting with others using these texting applications including Kik, however, they are too young to take care of privacy protection, sometimes, the messages they sent or the photos/videos they shared might contain sensible information to expose their privacy, which gives these online predators chance to hurt them.
With PanSpy, you will be able to monitor what your child has sent to others or shared with Kik, so you can take timely action to protect them from being hurt by online bullies.