Hangouts
Your child likes texting with others or sharing photos using Google Hangouts? Maybe it's not a good idea to left it unmonitored. PanSpy enables you to check the contents of Google Hangouts to prevent your child from online predators and bullies.
Get Started

View Demo
WITH PANSPY YOU CAN:
Check the Hangouts contact lists.

Browse your child's every conversation with others.

View what your child sent and received on your Child's phone.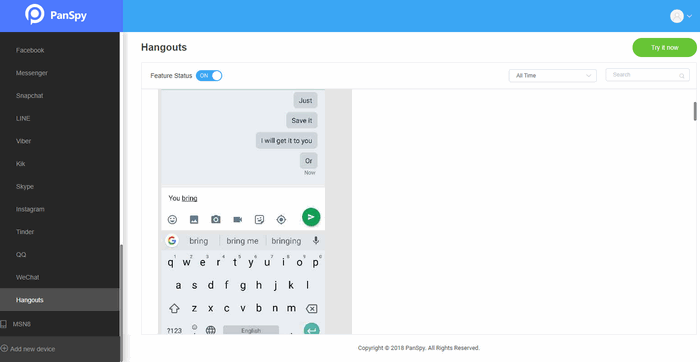 Why will you find this feature useful?
Google Hangouts are getting more and more popular with over the world, what makes it much easier to give predators access to your child. To prevent your child from online predators, you need to monitor your child's Hangouts conversations including contacts, photos, map and more with PanSpy.
PanSpy enables you view all contents that your child sent or received, even if the messages get deleted, you still have access to it on PanSpy control panel.