Call logs
Do you receive calls from unknown numbers, which causes you significant discomfort? Want to end that and assume greater control of your incoming calls? PanSpy call tracking is a solution! We have designed a comprehensive, easy-to-use call tracking software package for you to track callers and even identify the location from which they make those calls!PanSpy allows you to instantly view the complete call history on a monitored phone. Review the time stamps and information on your child's calls.
Get Started

View Demo
WITH PANSPY YOU CAN:
The created time of all incoming and outgoing calls

Call recordings (Android 10 and below)

The types of calls such as incoming, outgoing, missed or rejected calls

Contact names, phone numbers

No jailbreak required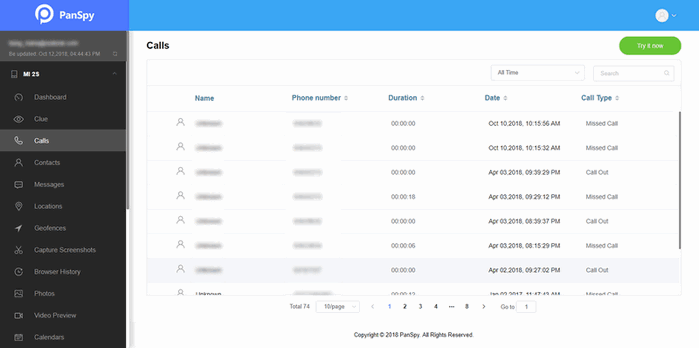 Why will you find this feature useful?
Monitoring of outgoing and incoming calls can help prevent many troublesome issues for your child. Bullies and other predators will be easier for you to identify when all your child's calls are neatly organized in your Control Panel.
You will be able to know the 5 most frequent numbers that you kid calls or receives. This allows you to always know who they talk to often.